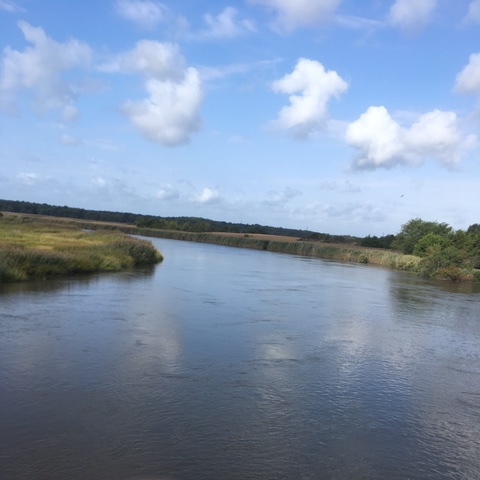 As I stood in the grassy area by the side of the highway with heavy traffic racing by, the prevailing thought in my mind was there has to be a lesson in this.
Earlier this spring the thought entered my mind and a desire arose inside of me to complete a century ride, cycling-speak for pedaling one hundred miles in one outing.
I last attempted to ride this distance about six years ago, with my personal best recorded at 103 miles logged in approximately thirteen hours.
In talking with a friend of mine earlier this summer he offered to fully sponsor me to ride for the benefit a of local Christian retreat which provides a summer camp experience for children who might otherwise not have the opportunity to attend.
The available distance options were to cycle 50-80-100-125 or 145 miles starting at the camp or to be shuttled to one of the other start point distances.
The destination – Rehoboth Bay near Lewes, Delaware.
I had set a goal in June to do this.
I trained diligently over the course of the past three months, consistently logging time on my indoor trainer during the week and hitting the roads on weekends, all in an effort to prepare for the long haul.
Long distance cycling is not only a test of physical endurance, but also one of mental fortitude. One simply cannot do a long distance ride by wishing it into existence. It has to be a progressive process that increases the physical and mental capacities.
Over the past six weeks leading up to the ride I increasingly started cycling longer distances, successively reaching 25, 42, 70, and 85 miles as the day of the event approached.  I was physically and mentally ready, not too shabby for a guy in his early 60's.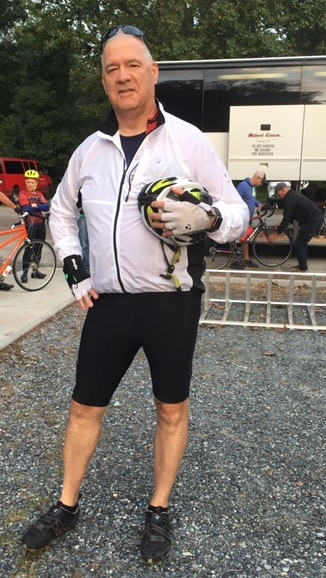 I was also spiritually ready to dig deep and to allow God to use this time to train me in the overcoming process.
I solicited the prayers of many people, mostly family and friends. I wanted all my bases covered with respect to protection while on the roads, endurance as I pedaled mile after mile, and the ability to deal with the mind games I knew would come.
This past Saturday was go time.
The question you might be pondering at this juncture is this, "Why then were you standing alongside the busy highway?"
Good question!
After traveling a little over thirty-seven miles into moderate headwinds and sustained uphill grades, I made my way down the on ramp onto Delaware Route 1. It seemed a little odd to me, but I know I read the directional road markings correctly.
The route placed me parallel and alongside a four lane, travel-to-the-beach-on-a-sunny-day, busy highway.
Although I am not averse to sporadic traffic, my training runs took me on rural, a-car-or-two-at-a-time country roads as opposed to a lesser version of the Daytona Motor Speedway.
I did not want to suspend the ride I had trained to do for over three months. The thoughts of being a quitter reared their ugly heads.
I thought the ride placement on the highway was a connector to a local road. I did not realize it would continue, as I later learned, for several miles.
I faced a decision as I wrestled with the inevitable.
Do I continue on the prescribed route with its inherent risks or do I decide to bail out, get in touch with the support crew, and have them transport me to the finish line?
Quite honestly, I was somewhat unnerved.
I composed myself, asked God what to do, and then listened intently for the answer. It came in the form of an out-of-nowhere, compelling thought.
I immediately pictured music legend Kenny Rogers performing his hit song, The Gambler. Weird, I know!
In thinking of a card game, the answer came effortlessly and with no hesitation.
"…You've got to know when to hold 'em. You've got to know when to fold 'em. You've got to know when to walk away. You've got to know when to run….Bruce, it's time to fold 'em".
With that, I unzipped my shirt pocket, pulled out the emergency contact card, and requested a ride to the end of the route.
Ride over. Goal not met. Done. Bummer.
Although the other riders finished with no apparent trouble, to me it was not worth the risk to continue on a route on which I was highly uncomfortable.
Was I making more of it than what there was?
Was I avoiding a potential accident?
Did I take the easy way out?
I could have continued, but I felt this overwhelming sense of resolve in reaching my decision.
I may never know the answer to these questions. However, I sensed peace in the conclusion to which I arrived.
No regrets.
Reiterating my opening thought, there has to be a lesson in this.
At times, we set out to do something or pray on a linear scale. We think one dimensionally.
A + B = C
I prayed for endurance, protection, and for overcoming mind games – all worthwhile requests. The answer I received was more than one dimensional and dynamic.
It required me tuning in to listen for a specific answer to a specific question at a specific time and to get immediate feedback without dealing with a guilt trip, whatever the outcome.
The answer came in the form of song lyrics I may have heard once in my life, but the voice was assuredly that of God speaking to my inner man.
Enough said. I am still pondering the extent of the lesson posed. For now, I take solace in this,
"And we are confident in that He hears us whenever we ask for anything that pleases Him." 1 John 5:14 (NLT)
As to the lessons in it, stay tuned for Part 2. I look forward to sharing with you.