The games of XXXI Olympiad which started a couple of weeks ago in Rio de Janeiro, Brazil will soon be drawing to a close.
The thing I love most about watching the Olympics is learning about the back stories of the individual athletes which allow the viewer to get a glimpse of what it took to qualify for the Olympic games in the first place.
These are stories which describe triumphing over obstacles which come in all forms.
They are stories which shed light on the hopes, aspirations, and the achievement of one's dreams or moments of heartbreak which ruined those same dreams temporarily or permanently.
In these Olympics we have shed tears of joy with Kathleen Baker winning the Silver medal in the 100M backstroke swimming event while dealing with the effects of Chrohn's Disease.
We have learned how Simone Biles, referred to as the best female gymnast ever, overcame a messed up family situation and the associated care in foster homes as part of her back story.  Simone and her sister were subsequently adopted by their grandparents (who they call Mom and Dad).  Her reliance on faith and family set the stage for her to win Olympic gold on the team and individual levels.
There is the story which is Michael Phelps, the most decorated Olympian of all-time, who has won 28 Olympic medals in his stellar swimming career.
A couple of years ago, despite his fame and celebrity status, he found himself in a dark place and pondered suicide.
It wasn't until a friend, former NFL player Ray Lewis, gave him a copy of Rick Warren's book The Purpose Driven Life did life take a turn for the better.  The book offered him a renewed hope to live his life to the fullest and on purpose.  He learned God has a plan for his life.
As these games come to a close, Phelps is calling it a career after having earned five more gold medals and one more silver medal in these games.
His story could have ended much differently as he has gone from saying "I thought the world would just be better off without me" to saying "Where I am now is exactly how I want to finish".
Each of the stories I mention above contain some element of falling down and getting back up. 
Occasionally, there is a story of an athlete which transcends the moment and is the epitome of an athlete falling down and getting back up, serving as an inspiration for those who partake of the story.   
Derek Redmond's story is the story of triumph while experiencing defeat. It occurred in 1992 at the Summer Olympics games held in Barcelona, Spain. 
To gain a better understanding of Derek's story you can read about it here or you can choose to view a summary of it below (my vote!):
I can relate to Derek's story. There have been moments in my life where I have fallen flat on my face and quite frankly didn't feel like getting back up.
Somehow, during those times, I made a decision to keep moving forward while the arms of a loving Father comforted me.
Can I be honest? 
I am there right now – with my backside down on the track and facing yet another decision to either get back up or yield to the temptation of staying in the solitary place of asking, "What's the use?"
Without getting into the details, life has been stressful for Team Cross lately as we grapple with some ongoing transitions which have tested our mettle.
There have been tears, worries, and genuine concerns.  Now is our time of being tested in the fire.
Do we resign ourselves to remaining with our backside on the track or do we get back up and continue running? 
We will choose the latter – we will get back up and complete the race before us.
It is a time in which our faith in God will prove to be genuine.
Unlike Michael Phelps, we will come away something more precious than gold.
"These trials will show that your faith is genuine. It is being tested as fire tests and purifies gold—though your faith is far more precious than mere gold. So when your faith remains strong through many trials, it will bring you much praise and glory and honor on the day when Jesus Christ is revealed to the whole world." 1 Peter 1:7 NLT
As I have quoted before, "It's not how many times you get hit.  It's about how many times you get hit and get back up.  That's how winning is done."
You too may have your back end on the track as well.
You may have endured an unbearable loss and the nose of your plane is far from being in ascend mode.
Your life might appear to be upside-down at the moment given your new normal is not the old, familiar normal and with it comes more adjustments that you care to make.
You may not like change, but change is wrapping its arms around you and squeezing you a little harder than you care to be squeezed.
Health issues may have pushed you down and down and down.
Like Derek, Pain, Agony, Disappointment, and Loss want to be BFF's with us.
You and I have a choice to make.  We can keep company with our BFF's or we can make a decision to say no to the invitation and make the effort to get back up.
What's it going to be?
You have a Father who is descending from the bleachers to seek you out, to pick you up, and who is willing to walk alongside of you and carry you if need be.
Like Derek's father He is saying, "Well then we're going to finish this together!" as you approach the finish line to complete your race.
If you have to hobble, then hobble.
Let the tears stream down your face, it's OK!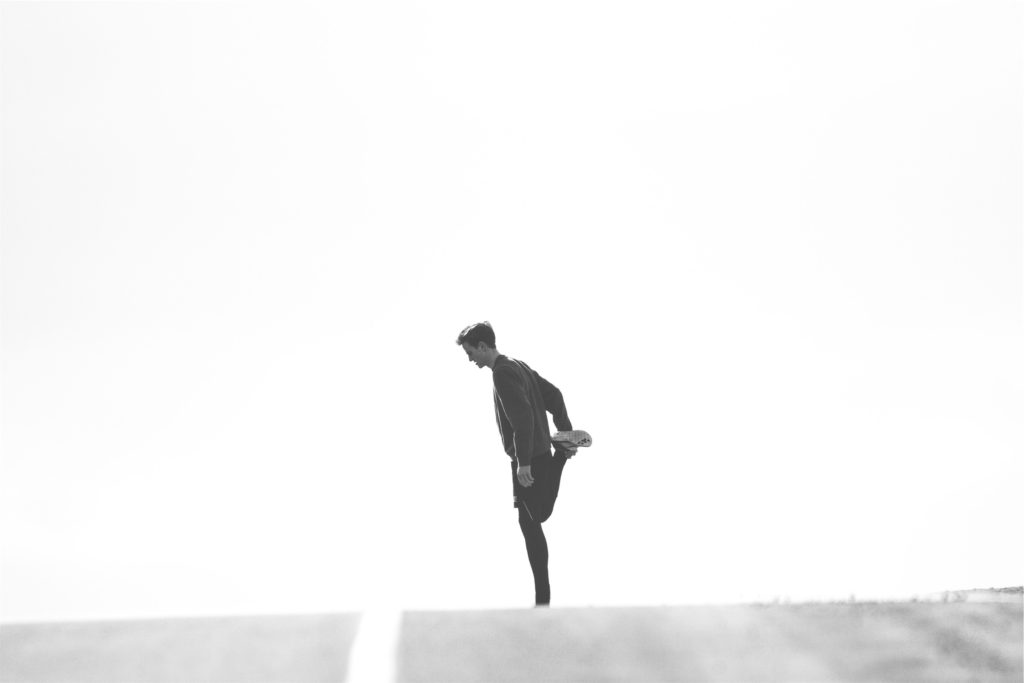 As the emotion of your testing moment attempts to overtake you, stay composed and by all means, get back up!
Fix your gaze on the goal and move forward.
Finish your race, whatever it may be for you, and don't allow a temporary setback become a permanent disappointment.
You may have fallen down.  It is time to get back up!
Photo Courtesy of Creative Commons